The rope over the abyss is held taut by those
who give it anchorage in heaven –
through fidelity in a faith
which is the constant, ultimate sacrifice.
Dag Hammarskjöld
Subscribe to our newsletter which is published once a fortnight (excl. times of holidays) to keep up to date with all that is going on in the seminary – unfortunately only in German. Subscribe to
Das neue Buch - entstanden im Umfeld des Seminars: "Ethik des Anleitens". Ab 13. Oktober 2017 im Buchhandel.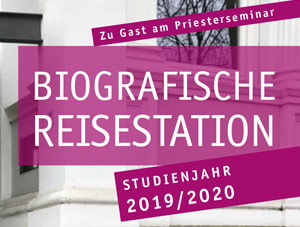 Zu Gast im Studienjahr 2019/20: Wir laden Sie herzlich ein zum Mitstudieren am Hamburger Priesterseminar für jeweils ein Modul im Vollzeitstudium. Mehr dazu ...
Your donation helps.
Bank transfer too complicated?
Here we can easily help you...
»Online donations«. (only possible within the Eurozone)